Artists
Dale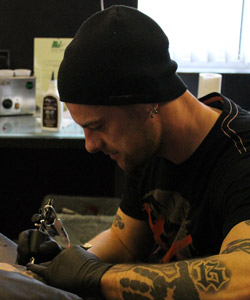 Hi, I'm Dale. I began my tattooing career back in 1995 when I was just a boy of 21 years. A lot has changed since then, and I'm no exception. Trained by Dave Warman (R.I.P.), I learned the old skool way. Soldering my own needles, using noisy, heavy coil machines that required constant maintenance and tattooing generic flash designs over and over.
Some of you may remember my very first studio in my bedsit on Mansfield Road, Alfreton, where I practiced on all my friends. I'd like to thank all those people (dead and alive) for believing in me back then.
In 1997 I got my first proper shop in New Lane Galleries where I worked until 1999. It was then I realised I needed some worldly experience and went travelling for four years, tattooing in Australia and Holland along the way. In 2003 I returned to Alfreton to carry on where I left off, renting a space in a body piercing shop. It would be another five years before I opened my own shop again, on Church Street.
2009 saw the arrival of Tim Cammillare who still works with me to this day. As an artist who has always previously worked alone it's good to have someone to bounce ideas off and share the creative process with. Four years later it was time for another studio change and I moved to my current place at number 9 High Street.
Well, that's my history and I've collected a lot of priceless experience in the process, making tattooing almost second nature. Now I use rotary machines which are almost silent and produce great results. All the equipment has vastly improved over the years. My preferred styles are photo realism, trash polka, surrealist traditional and anything else that takes my fancy. Open minded customers are great as are people who have a very specific idea of what they want. A mixture of the two mindsets is ideal though as when you come to me for a tattoo you introduce my mind to the equation. I try to make every piece I do an original, one-off custom piece, tailored for the individual. Your mind and body are unique and so should your tattoo's be. If you come into my studio looking for flash designs, you're going to be disappointed cos they all went in the bin years ago.
I look forward to meeting you and all the crazy, far out, humorous, interesting and bizarre ideas you come with (good and bad). Just come with peace and love in your heart and a thirst for tea!!!!
Kong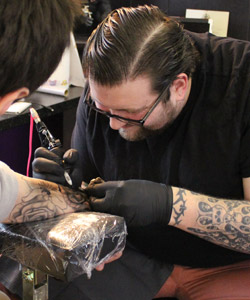 Ow'at! I'm Kong. My introduction to tattooing came in 2003 when I was 22 years old. I began by drawing designs for Anthony Lane, better known as 'Greedy' of Black Magic Tattoo's, Stoke. Then in 2004 I started an apprenticeship and spent the next five years honing my skills and artwork under the watchful eye of Greedy.
In April 2009 I came to live in the Alfreton area and started working at the Tattoo Studio. Tattooing alongside Dale for the last five years has been great for my development as an artist. My work has improved a lot and my love for tattooing has increased tenfold. All equipment has been upgraded over the last couple of years, resulting in the overall refinement of my tattoo's. I constantly strive to improve at what I do, in all aspects of the industry. I like most styles of tattooing and always try to put my own spin on things, keeping it varied and original and always 'custom'. The direction I'm taking with my work is towards more colour realism and generally pushing the boundaries of what's possible.
I look forward to meeting you and hearing all your wonderful ideas and may I take this opportunity to thank everyone I've tattooed since coming to work at the Tattoo Studio.
Seethee.
Videos
Time lapse clip of a 3 hour portrait tattoo session by Dale.